You are currently browsing the category archive for the 'Association News' category.
The NLDA was once again in attendance at the LSBA 38TH Annual Awards Banquet on June 23, 2012 at the Brazos County Expo Complex.
The Blood Trailing Workshop covered topics such as Training techniques, mental conditioning, and Laying artificial trails. Participants were given the opportunity to work their dogs on an actual blood trail and visit the NLDA booth for information on memberships, the National Lacy Dog Registry, events, prizes, and merchandise.
Other events included snake avoidance, photo contest, special demonstrations, silent auction, and a 3D shoot.
We would like to thank the LSBA for providing us with a great venue and opportunity to reach out to the working & hunting dog community.
About 2 dozen people and dogs gathered for the NLDA's first tracking challenge and field day event of 2012.
The weather was nearly perfect for the weekend's events. After the trials, participants were able to enjoy a delicious lunch and share stories.
Other events included snake avoidance training, trapping, and hog baying.
As always, new friends were made and the bar was set for future NLDA tracking events. We are grateful to everyone who joined us. The success of the NLDA depends upon the gracious support of the working dog community. We strive to provide activities for skilled dogs and their owners to partake in and be recognized for exceptional performance.
Results of the tracking challenge:
Junior Tracker
1st – Ron Jones & Allison
Score 93.0
Time 1m 56s
2nd – Arnie Alexander & Slate
Score 75.0
Time 6m 37s
3rd – Jimmy Brooks & Gracy
Score 67.0
Time 6m 47s
Senior Tracker
1st – Jamie Wilhelm & Rein
Score 100
Time 3m 13s
2nd – Robby Leek & Colt
Score 58
Time 12m 26s
Master Tracker
1st – Ron Jones & Allison
Score 92
Time 4m 02s
2nd – Betty Leek & Lucy
Score 90
Time 7m 33s
3rd – Marty Thomas & Bagley
Score 82
Time 6m 30s
4th- Jim Rogers & Stormy
Score 72
Time 12m 20s
5th- Robby Leek & Ben
Score 72
Time 13m 06s
2012 Lacy Dog calendars are here! Thanks to everyone who submitted images for our consideration. It was difficult to choose 12 pictures out of all the great entries we received. Get your copy today at the National Lacy Dog Association online store! NLDA Calendars and cards make great gifts for the holidays!
The NLDA is excited to announce our first official field trial where  dogs will have the opportunity to be evaluated by a judge, earn a tracking certificate, and compete against other dogs for working titles.
The idea came about as a way for breeders to determine a dog's suitability for a particular use by obtaining a title, however, these contests are a great way to give handler and dog some off-season action and a chance to take home a trophy. In this blood trailing trial, three simulated blood trails will have varying levels of difficulty.
This event, which is open to all breeds, will be conducted at the beautiful Oak Knoll Ranch in Menard, Texas. Lodging and meals will be available for registered guests beginning Friday night. Trials will begin the following morning at 8 am.
We hope that this tracking competition will be the first of many NLDA-sanctioned shows where dogs are judged for performance in blood trailing, hog hunting, bay pen work, cattle herding, and trap lines.
For details, including registration, please go to www.nationallacydog.org/bloodtracking.pdf and download the form.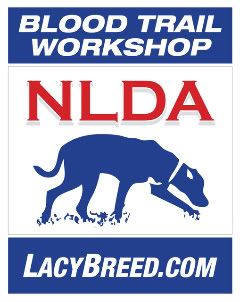 The National Lacy Dog Association would like to thank the Lone Star Bowhunter's Association for allowing us to take an active role in the LSBA 37th Annual Awards Banquet at Pedrotti's Ranch in Helotes, Texas.
The Blood Trailing Workshop was a huge success. Several dog/handler teams participated in the program which was designed to develop the tracking dog's problem solving skills in wounded game recovery. Attendees were also able to ask questions and share stories and experiences throughout the day.
We also gave away some nice prizes in the charity raffle, including a two-dog E-collar system from Dogtra and an Innotek Invisible fence system donated by TexasBloodTrackers.com.
The banquet was a wonderful opportunity for the NLDA to educate the public about blood tracking, work with hunters and a variety of dog breeds, and catch up with old friends.
Thank you,
Courtney Farris
For the first time ever, Oak Knoll Ranch will host the NLDA Working Dogs Field Day. All are welcome to join us in the beautiful Texas Hill Country for fun, food, and campfire camaraderie! This will be a great opportunity to meet other lacy enthusiasts and practice your handling skills under the guidance of experienced instructors. Educational and fun-filled activities will include a hog bay arena, blood trailing workshop and competition, trapping demonstration, snake avoidance, and much more!
Friday night, there will be an assembly at the lodge for a meet and greet and cook out. Breakfast will be served Saturday morning. After a fun day afield, we will retire to the lodge for a little R&R. Guests are welcome to stay Friday and Saturday nights so come early and stay late!
Overnight accommodations are available on location and encouraged but space is limited so reservations are recommended.
$30 per person and $5 per dog per event. Concessions and meals will be available all weekend. Event tickets will be available for purchase. Youth admitted for free.
Dogs must be under control at all times. Cameras and video cameras are welcome at all NLDA events!
The main events will be held on April 2nd, 2011 beginning around 9 am at Oak Knoll Ranch, located at
7010 US Hwy 190 just 12 minutes west of Menard, Texas.
For more information and reservations please call Courtney Farris at (214) 679-1801 or email nationallacydog@gmail.com.
For the second year in a row, the National Lacy Dog Association was a Bonus Sponsor for the TDHA Hunt For The Hungry. The hunt was a huge success, bringing in 29,176 pounds of meat to feed needy Texans. We also had four NLDA members hunt with their Lacys as part of Team Pork Stars. Mike and Kas Brooks, DJ Middleton and Steve Williams caught an impressive 813 pounds of pork, earning them tenth place out of 68 teams.
The NLDA also took an active role in the Lone Star Hunting & Working Dog Expo. Our booth served as place for members to met while giving us the opportunity to educate the public on Lacy Dogs. Two members were also asked to give presentations in their area of expertise. President Jimmy Brooks put on a trapping demonstrations while Director Betty Leek held an informative seminar on raw feeding.
Thank you to all who supported these events. We hope to see everyone next year in Hallettsville for the 2011 Lone Star Expo and Hunt for the Hungry!
The National Lacy Dog Association is proud to once again be a Bonus Sponsor of the TDHA Hunt for the Hungry. This hog dog tournament has grown into the largest charity hunt in the United States, bringing in over 28,000 pounds of pork to feed needy Texans. It is truly a worthy cause and a great way for Lacy Dogs to give back to their home state.

We've made a special Lacy Dog t-shirts to commemorate this special event. We have three short sleeve, two long sleeve and two kids styles now available in the NLDA online store. Show your support for the breed as well as Hunt for the Hungry! Shipping is free on orders over $50 with the coupon code CWIN205, so add a 2010 calendar, Lacy stickers or a few extra tees to complete the package.
We will be working on another design for later this spring, stay tuned!
Just in time for the holidays, the National Lacy Dog Association online store is up and ready for your orders! Now you can show your true blue Lacy pride with calendars, cards and stickers from the NLDA.
Our shop features a 12-month 2010 Lacy Dog calendar of beautiful pictures from NLDA members. We also have a one-page Lacys in action calendar. If you're looking for a unique season's greeting, we have blue Lacy holiday cards and Lacy puppy Christmas cards. And there are three different Lacy Dog stickers in three different sizes. Choose from a Lacy Dog bumper sticker, a Texas Lacy sticker and an oval Lacy sticker.
For more details and pictures of all these products, please visit the Lacy Dog Cafe Press store.